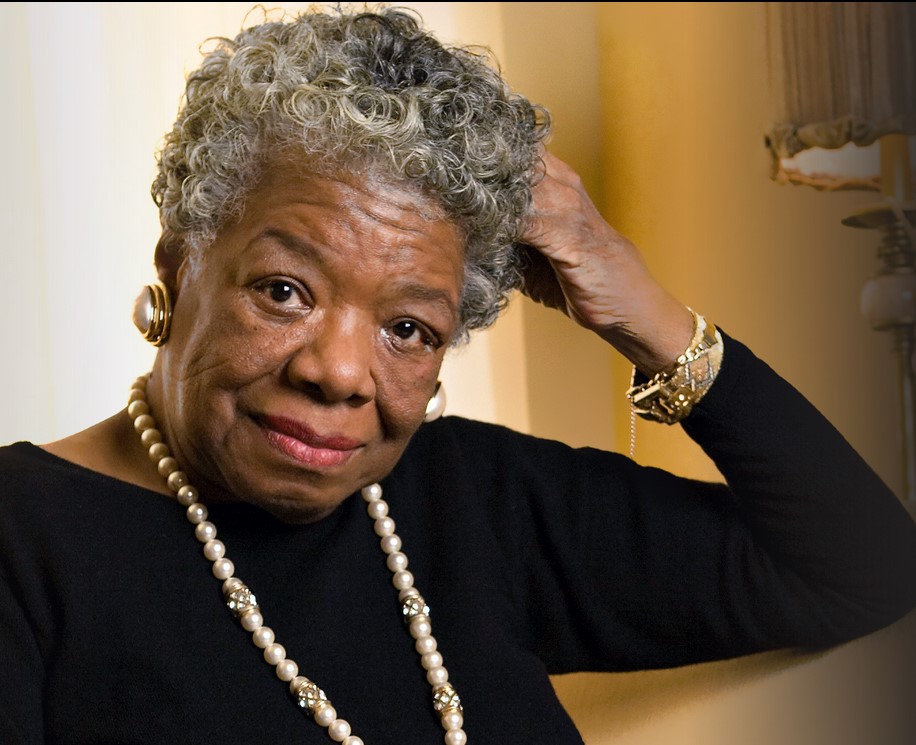 https://achievement.org/achiever/maya-angelou/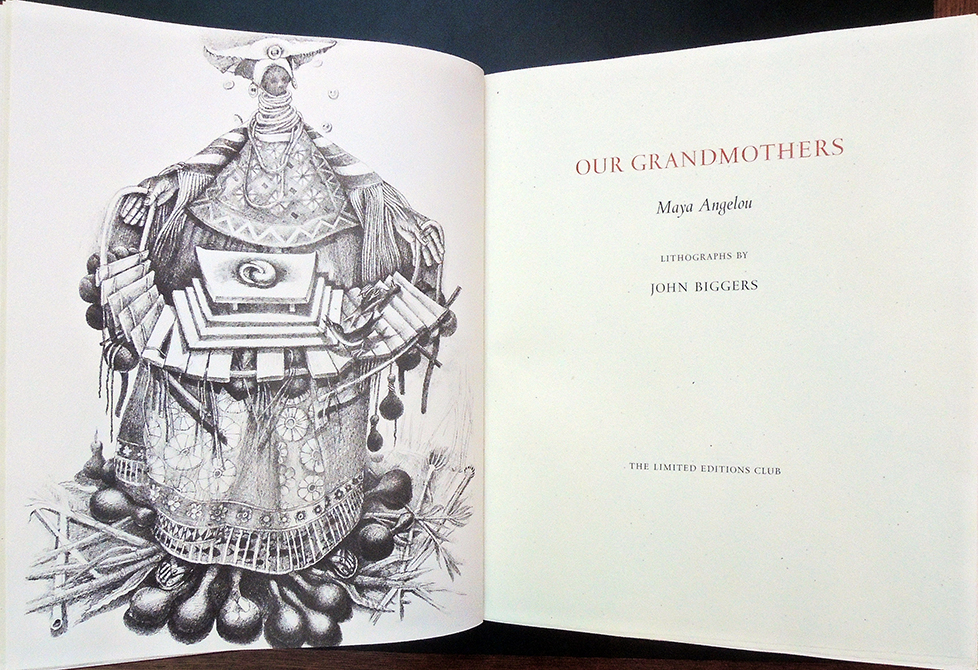 Maya Angelou (1928-2014), Our Grandmothers. Lithographs by John T. Biggers (New York: Limited Editions Club, 1994). Lithographs and letterpress. Graphic Arts Collection GAX 2020- in process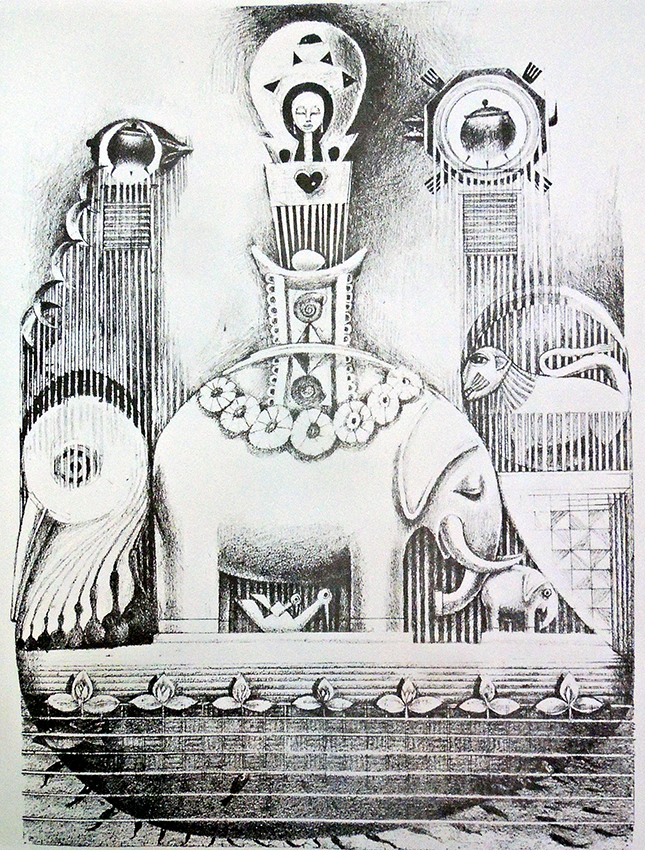 She stands
before the abortion clinic,
confounded by the lack of choices.
In the Welfare line,
reduced to the pity of handouts.
Ordained in the pulpit, shielded
by the mysteries.
In the operating room,
husbanding life.
In the choir loft,
holding God in her throat.
On lonely street corners,
hawking her body.
In the classroom, loving the
children to understanding.
Centered on the world's stage,
she sings to her loves and beloveds,
to her foes and detractors:
However I am perceived and deceived,
however my ignorance and conceits,
lay aside your fears that I will be undone,
for I shall not be moved.
–Maya Angelou, Last stanzas from "Our Grandmothers" first published in I Shall Not Be Moved (1990).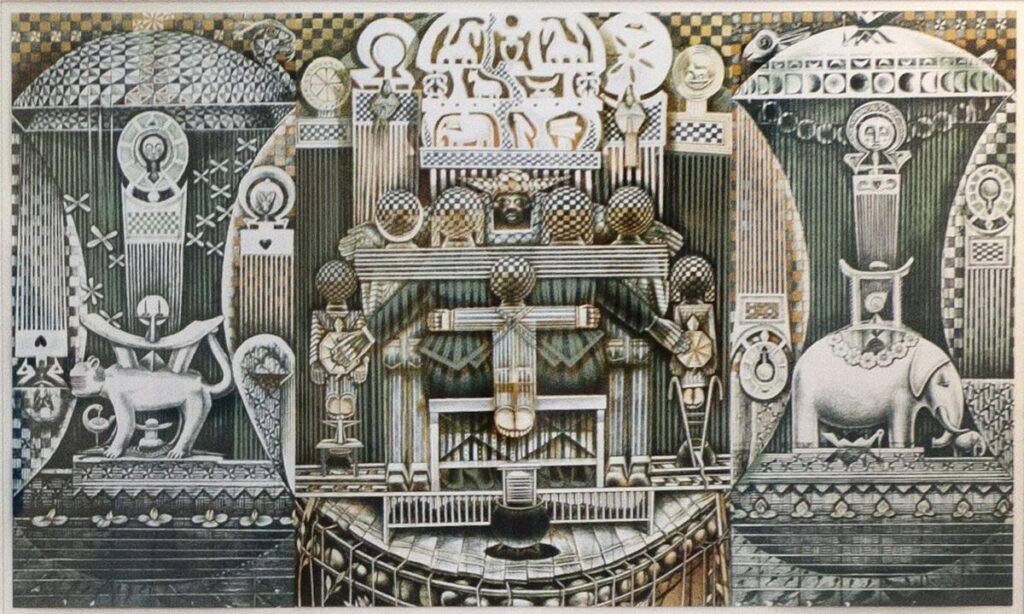 When Maya Angelou (born Marguerite Annie Johnson) agreed to allow her poem "Our Grandmothers"  be used in a Limited Editions Club publication, she asked that it "be illustrated by her favorite artist, John T. Biggers, an internationally acclaimed muralist and printmaker. …And now, for the Maya Angelou poem, Biggers has created five monumental lithographs that synthesize his concepts for the soul of Black Africa and its American reincarnation, of ancient myth and contemporary reality." [-prospectus]. In planning his contribution to the book, Biggers used several elements from his 1992 triptych entitled "Family Arc," seen above.
Originally published in her fifth poetry book, I Shall Not Be Moved (1990), the poem's 1994 printing had a limited run of 400 numbered copies signed by both the author and the artist. It was one of the largest-format books (17 3/4 x 22 inches) ever issued by the Club.
"Angelou had written four autobiographies and published four other volumes of poetry up to that point. Angelou considered herself a poet and a playwright and her poetry has also been successful, but she is best known for her seven autobiographies, especially her first, I Know Why the Caged Bird Sings. She began, early in her writing career, of alternating the publication of an autobiography and a volume of poetry. …[She grew up] with their grandmother in the small town of Stamps, Arkansas. In Stamps, the young girl experienced the racial discrimination that was the legally enforced way of life in the American South, but she also absorbed the deep religious faith and old-fashioned courtesy of traditional African American life. She credits her grandmother and her extended family with instilling in her the values that informed her later life and career. She enjoyed a close relationship with her brother. Unable to pronounce her name because of a stutter, Bailey called her "My" for "My sister." A few years later, when he read a book about the Maya Indians, he began to call her "Maya," and the name stuck.
—https://achievement.org/achiever/maya-angelou/
An unsigned obituary for John T. Biggers, published on January 29, 2001 in the Washington Post, mentioned their collaboration, describing him as "a pioneering black muralist who became known for the epic sweep of his work in profiling the African American experience." The piece continues:
"Dr. Biggers, who lived in Houston, founded the art department of what is now Texas Southern University in Houston in 1949. He directed the department and served on its faculty until retiring in 1983 to devote his time to his artwork. He had gained national attention in 1943, when his mural "Dying Soldier" was included in the landmark exhibition "Young Negro Art" in New York's Museum of Modern Art. After he settled in Houston, his artwork, which was inspired by Mexican political muralists, became part of the very landscape of Lone Star schools and businesses.

…In 1994, he illustrated Maya Angelou's poem "Our Grandmothers." She had said that his art "functions as delight and discovery. He sees our differences and celebrates them. And in so doing, he allows the clans of the world to come together in respectful appreciation."