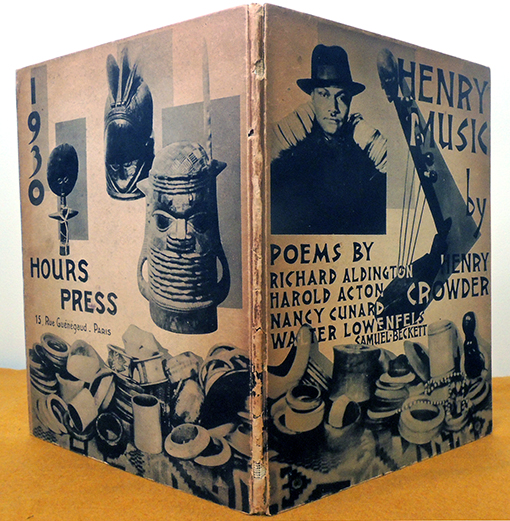 Photomontage by Man Ray (1890-1976)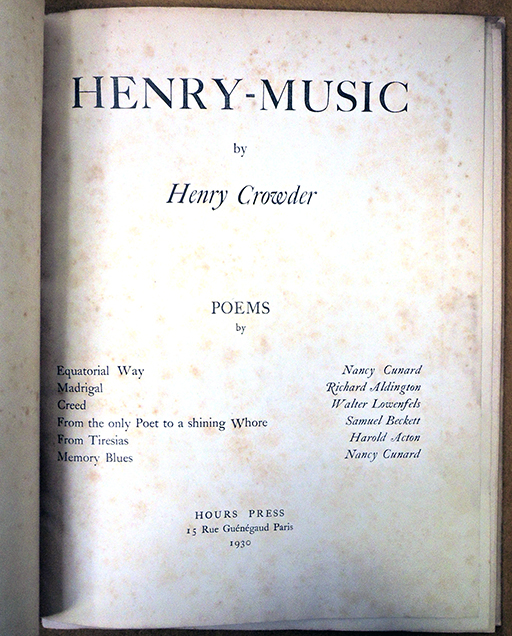 Two complementary volumes were recently acquired by the Graphic Arts Collection, greatly enhancing the fine press holding of Nancy Cunard's Hours Press and more generally, expanding material on Harlem Renaissance expatriates living in Paris during the 1930s:
Henry Crowder (1890-1955), Henry-Music. Poems by Nancy Cunard, Richard Aldington, Walter Lowenfels, Samuel Beckett, and Harold Acton. Music by Henry Crowder (Paris: Hours Press, 1930). Edition: 100. Cover photomontage by Man Ray. Graphic Arts Collection GAX 2020- in process. Acquired thanks to funds provided by the Friends of the Princeton University Library.
Anthony Barnett, Listening for Henry Crowder: A Monograph on His Almost Lost Music with the Poems and Music of Henry-Music (Lewes, East Sussex, England: Allardyce Barnett Publishers, 2007). "This 128 page monograph with previously undocumented materials includes an essay, roll/discography, some 90 photos, documents, music, CD insert with rolls and recordings including the Crowder-Cunard composition Memory Blues aka Bouf sur le toit and new recordings by New York vocalist Allan Harris of six compositions by Crowder including his collaboration with Samuel Beckett." Graphic Arts Collection GAX 2020- in process
Here is a brief snippet of music by Henry Crowder from Listening for Henry Crowder: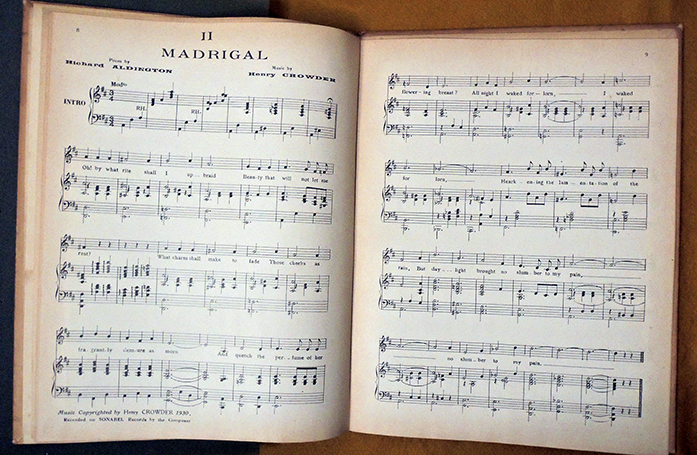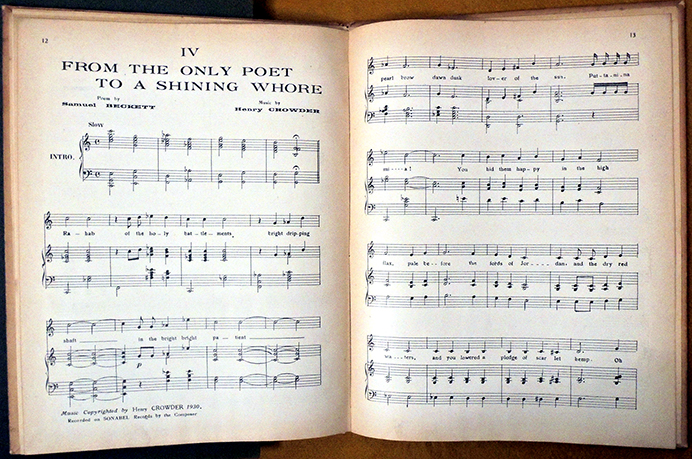 Born in Georgia, the Black jazz pianist Henry Crowder (1890-1955) first met the White shipping heiress Nancy Cunard (1896-1965) in Venice while performing at the Hotel Luna. They fell in love and moved to Cunard's home outside Paris. Together they converted an old farmhouse in Reanville into a fine press printing studio, called Hours Press, where they set type, designed and printed small editions, and published the work of Ezra Pound, Richard Aldington, Norman Douglas, Laura Riding, and others. The young Samuel Beckett won a poetry contest sponsored by the press and became a valued friend.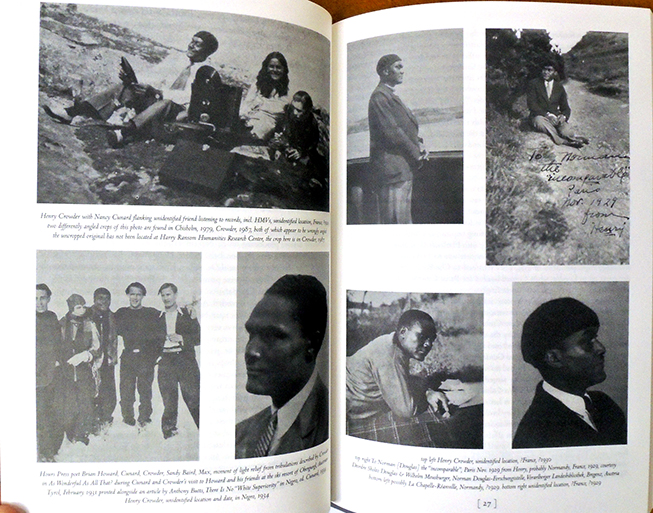 In Cunard's book These Were the Hours: Memories of My Hours Press, Reanville and Paris, 1928-1931, she writes about their 1930 publication Henry-Music. Richard Aldington, Harold Acton, Walter Lowenfels, and Beckett each gave Crowder poems to be set to music during an August vacation in the village of Creysse. "Nearly everything was written here in the course of four weeks, so that we went back to Paris with the Opus almost finished. … To do the covers Man Ray's name came to me at once, for he had not only a strong appreciation for African art but for Henry as well. I had known Man Ray and had admired his work for several years." Crowder later wrote an account of his years spent with Cunard, published posthumously, with almost no mention of this publication.
Princeton's copy of Henry-Music includes a lengthy inscription from Crowder to Mr. & Mrs. Otto Theis: "Dear friends, if this little effort of mine brings you one moment of pleasure, I assure that I am amply repaid for whatever effort went into the making of it. You two people are realy [sic] nearer to my heart than you may suspect. Probably I am presuming when I say that, but nevertheless the Gods themselves (whoever they are) don't always know who loves them."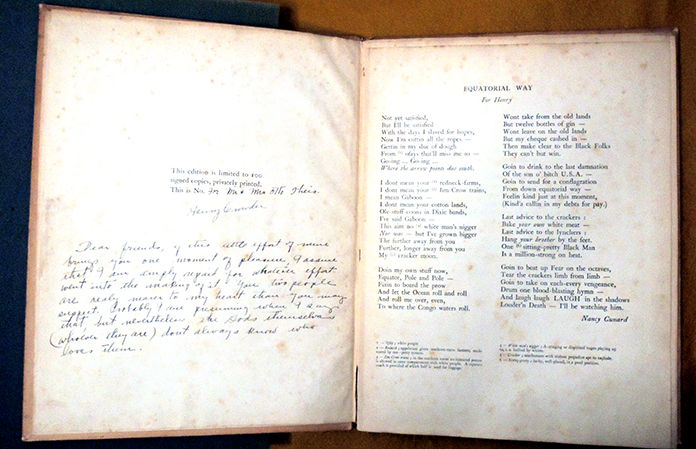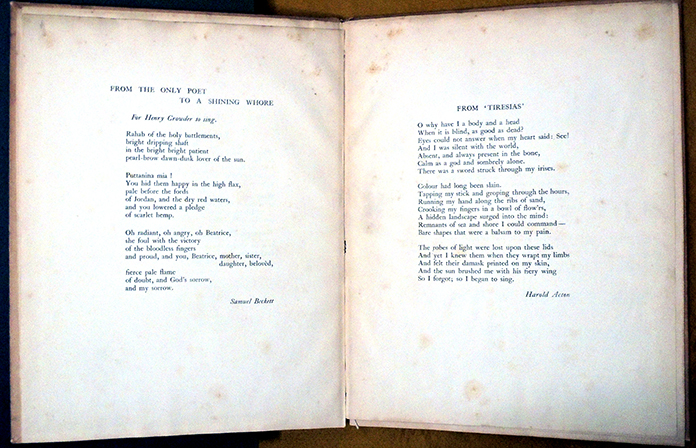 See also: Henry Crowder, As Wonderful as All That?: Henry Crowder's Memoir of His Affair with Nancy Cunard, 1928-1935 (Navarro, CA: Wild Tree Press, 1987).
Nancy Cunard, These Were the Hours (Carbondale and Edwardsville: Southern Illinois University Press, 1969).
Below is the poem twenty-four years old Samuel Beckett gave Henry Crowder for Henry Music, and above is a snippet of vocalist Allan Harris's recording. The complete recording is available on our CD included in Listening for Henry Crowder. **It begins very quietly**
From the Only Poet To a Shining Whore
for Henry Crowder to Sing
Rahab of the Holy Battlements,
bright dripping shaft
in the bright bright patient
pearl-brow dawn-dusk lover of the sun.
Puttanina mia!
You hid them happy in the high flax,
pale before the fords
of Jordan, and the dry red waters,
and you lowered a pledge
of scarlet hemp.
Oh radiant, oh angry, oh Beatrice,
she foul with the victory
of the bloodless fingers
and proud, and you, Beatrice, mother, sister, daughter, beloved,
fierce pale flame
of doubt, and God's sorrow,
and my sorrow.