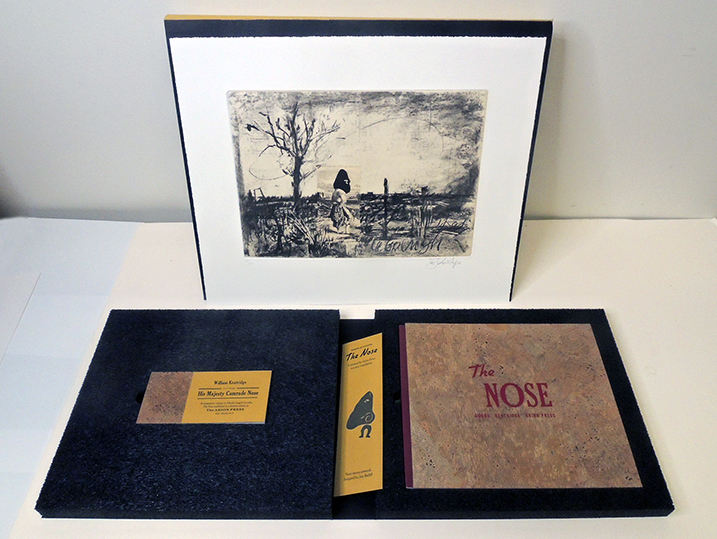 Nikolaĭ Vasilʹevich Gogolʹ (1809-1852), The Nose by Nikolai Gogol; English translation and commentary by Stanislav Shvabrin; sixteen drawings with collage by William Kentridge (San Francisco: Arion Press, 2021). Copy 17 of 40. Deluxe edition. Graphic Arts Collection 2021- in process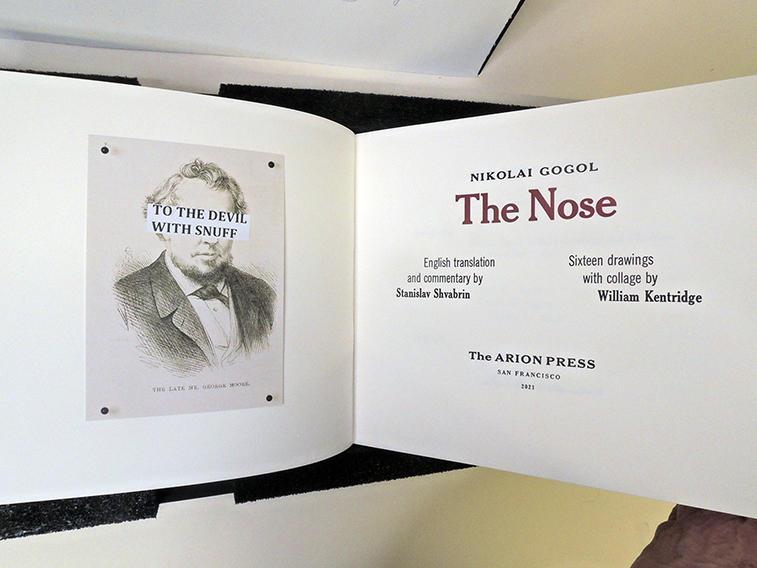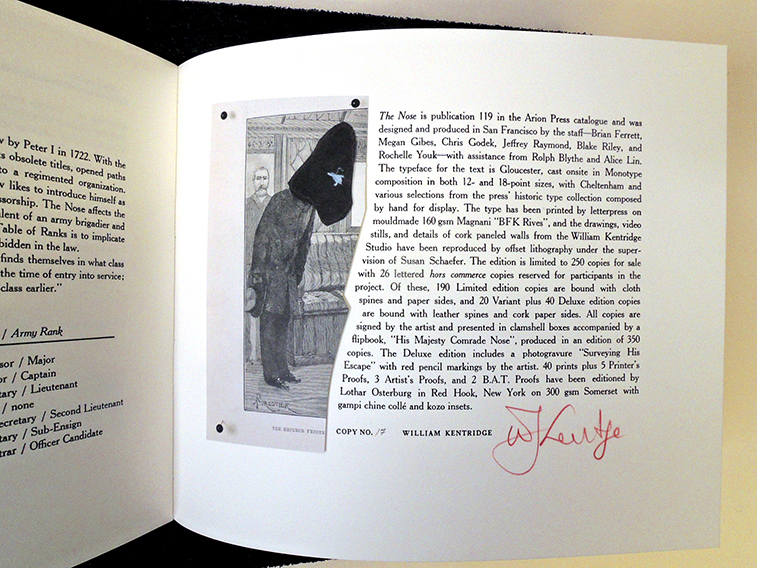 "The edition is limited to 250 copies for sale with 26 lettered hors commerce copies reserved … Of these, 190 Limited edition copies are bound with cloth spines and paper sides, and 20 Variant plus 40 Deluxe edition copies are bound with leather spines and cork paper sides. All copies are signed by the artist and presented in clamshell boxes accompanied by a flipbook, "His Majesty Comrade Nose", produced in an edition of 350 copies.

The Deluxe edition includes a photogravure "Surveying His Escape" with red pencil markings by the artist. 40 prints plus 5 Printer's Proofs, 3 Artist's Proofs, and 2 B.A.T. Proofs have been editioned by Lothar Osterburg in Red Hook, New York on 300 gsm Somerset with gampi chine collé and kozo insets."–Colophon.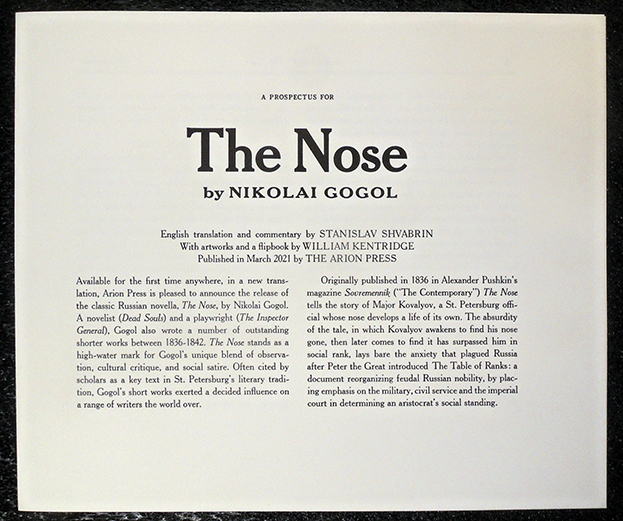 From the prospectus: Originally published in 1836 in Alexander Pushkin's magazine Sovremennik (The Contemporary), The Nose tells the story of Major Kovalyov, a St. Petersburg official whose nose develops a life of its own. The absurdity of the tale, in which Kovalyov awakens to find his nose gone, then later comes to find it has surpassed him in social rank, lays bare the anxiety that plagued Russia after Peter the Great introduced The Table of Ranks: a document reorganizing feudal Russian nobility, by placing emphasis on the military, civil service and the imperial court in determining an aristocrat's social standing.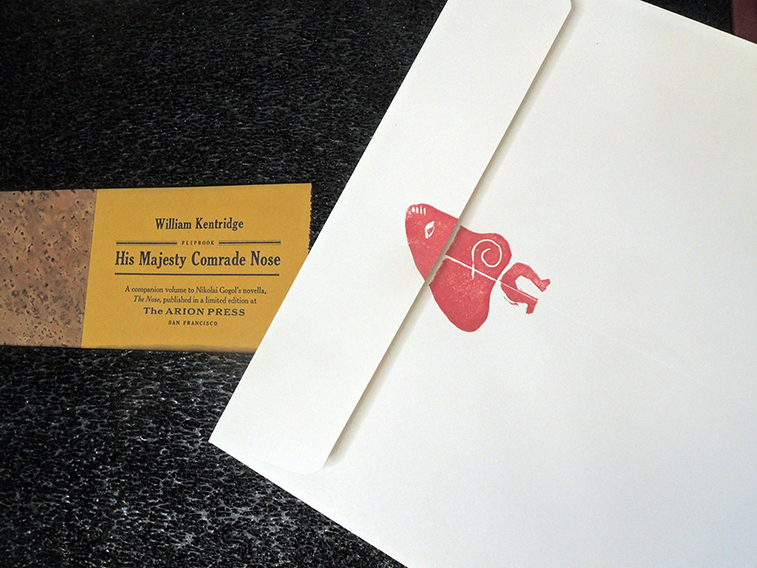 For this edition, Arion Press chose to collaborate with artist William Kentridge, who directed and designed a visually dazzling 2010 Metropolitan Opera production of Dmitri Shostakovich's adaptation of The Nose. This is his second project with the press, following The Lulu Plays, published in tandem with his 2015 production of the Alban Berg opera, Lulu, also for the Met. Kentridge's method combines drawing, writing, film, performance, music, theater and collaborative practices to create works of art that are grounded in politics, science, literature, and history.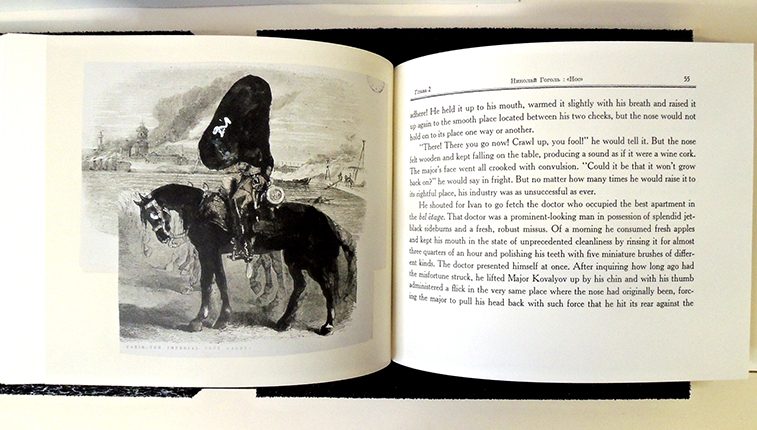 This edition includes a photogravure "Surveying His Escape" printed in warm black ink on 300 gsm Somerset with gampi chine collé and kozo insets, editioned by Lothar Osterburg in Red Hook, New York. See also: https://graphicarts.princeton.edu/2018/03/30/library-dreams-after-magrittes-time-transfixed/