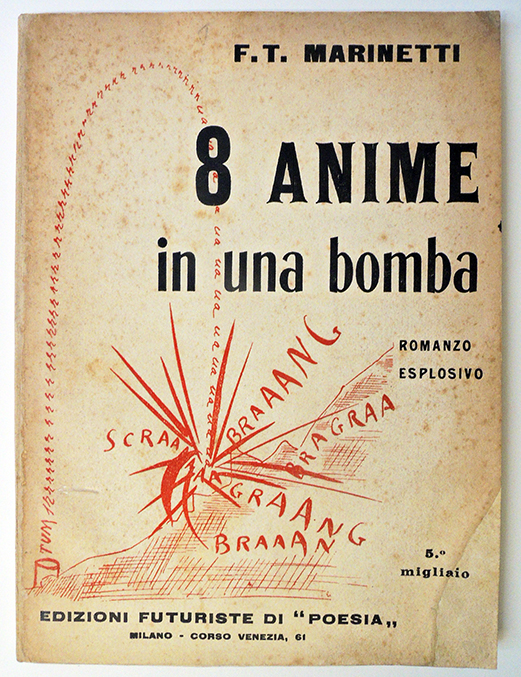 Filippo Tommaso Marinetti (1876-1944), 8 Anime in Una Bomba. Romanzo esplosivo [=8 Souls in One Bomb. An Explosive Novel] (Milan: Edizioni Futuriste di "Poesia," 1919). Graphic Arts Collection GAX 2021- in process
Beginning with F.T. Marinetti's manifesto in 1909, the male artists and writers of the Italian Futurist movement are the ones who made it into the history books. Often forgotten is an important figure within Futurism in general, and Marinetti's work in particular, the author Rosa Rosà (born Edyth von Haynau; 1884–1978). The two were introduced during World War I, at which time she changed her name "to express this dual identity and to play with Futurist ideas of movement, while simultaneously punning on the traditional female name, "Rose/Rosa." During the war, Rosa began to write in Italian for the Futurist journal L'Italia Futurista, where she published a myriad of articles, black and white drawings, short poems, and poetry." –Lucia Re, "Introduction to A Woman with Three Souls," California Italian Studies.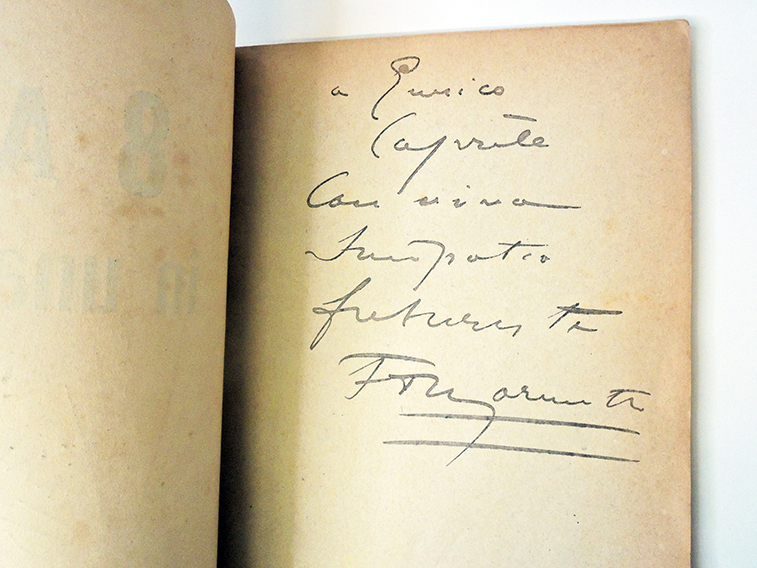 In 1917, while recovering in a military hospital, Marinetti wrote an enormously popular and presumably humorous book Come si seducono le donne (How to Seduce Women). The assertive Rosa Rosà responded with a number of articles and then, a short novel, Una donna con tre anime (A Woman with Three Souls, 1918), which critics called a visionary "futurist-fantastic narrative with elements of both realism and science fiction" (re-publishd in 1981 by Edizioni delle donne). Within a matter of months, Marinetti published his own visual and textual presentation of souls entitled: 8 Anime in Una Bomba. Romanzo esplosivo (8 Souls in One Bomb. An Explosive Novel).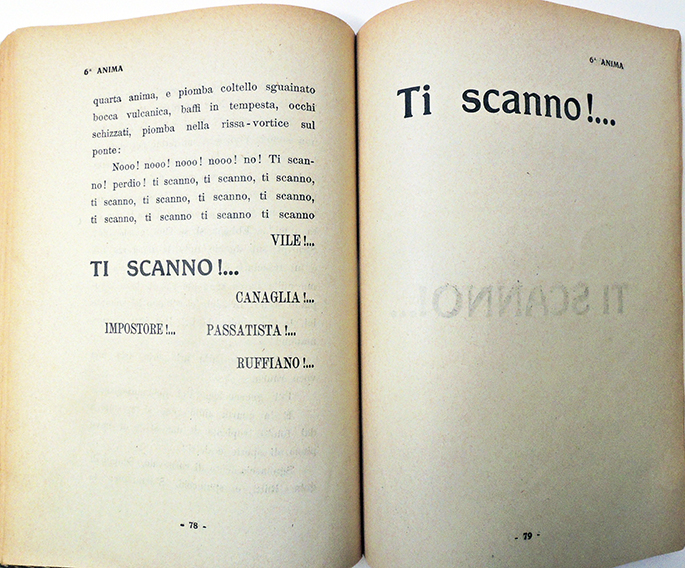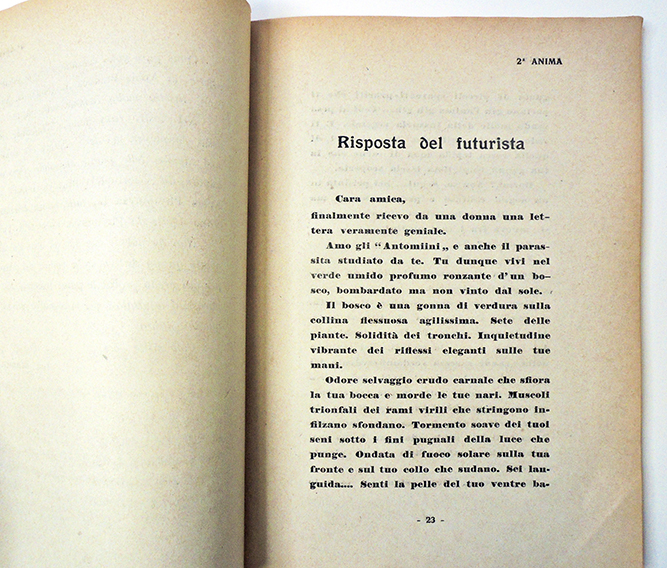 1st soul: The war piano
2nd soul: Letter from Bianca, plump virgin and professor of botany, to a futurist
Response of the futurist
3rd soul: The sick cow and the young heroes
4th soul: First quality of rubber: Elasticity-contradiction, Caporetto-Vittorio factory Veneto
Letter from the retreating 3rd Army
5th soul: Lust; Formulas; 4 floors of sensuality in an establishment of bathrooms
Nocturnal dialogue in the Observatory of 8th Bombarde Battery in Zagora
6th soul: The frightening tenderness
7th soul: Genius-revolution ; In prison for interventionism
8th soul: Purity
Mixture of 8 explosive souls
Chorus of the 8 explosive souls
Parable and explosion of the bomb
Each chapter of 8 Souls has different typography and layout, some with the visual poetry reminiscent of Zang Tumb Tumb and earlier futurist narratives. Other chapters are psychological, fictional descriptions of one of the eight identities. Over the years, various names have been given to each section–Heroism, seduction, creativity, aggression, and so on–although Marinetti keeps the titles ambiguous.
In the end, all eight souls unite in an explosive mixture of a 92 kg bomb, directed at "cholera lice moralistic priests spies professors and policemen…". Although there is no correspondence to link them, at this same time James Joyce was publishing Ulysses in parts from March 1918 to December 1920. Joyce wrote 18 episodes, each chapter with a different literary structure or narrative format.